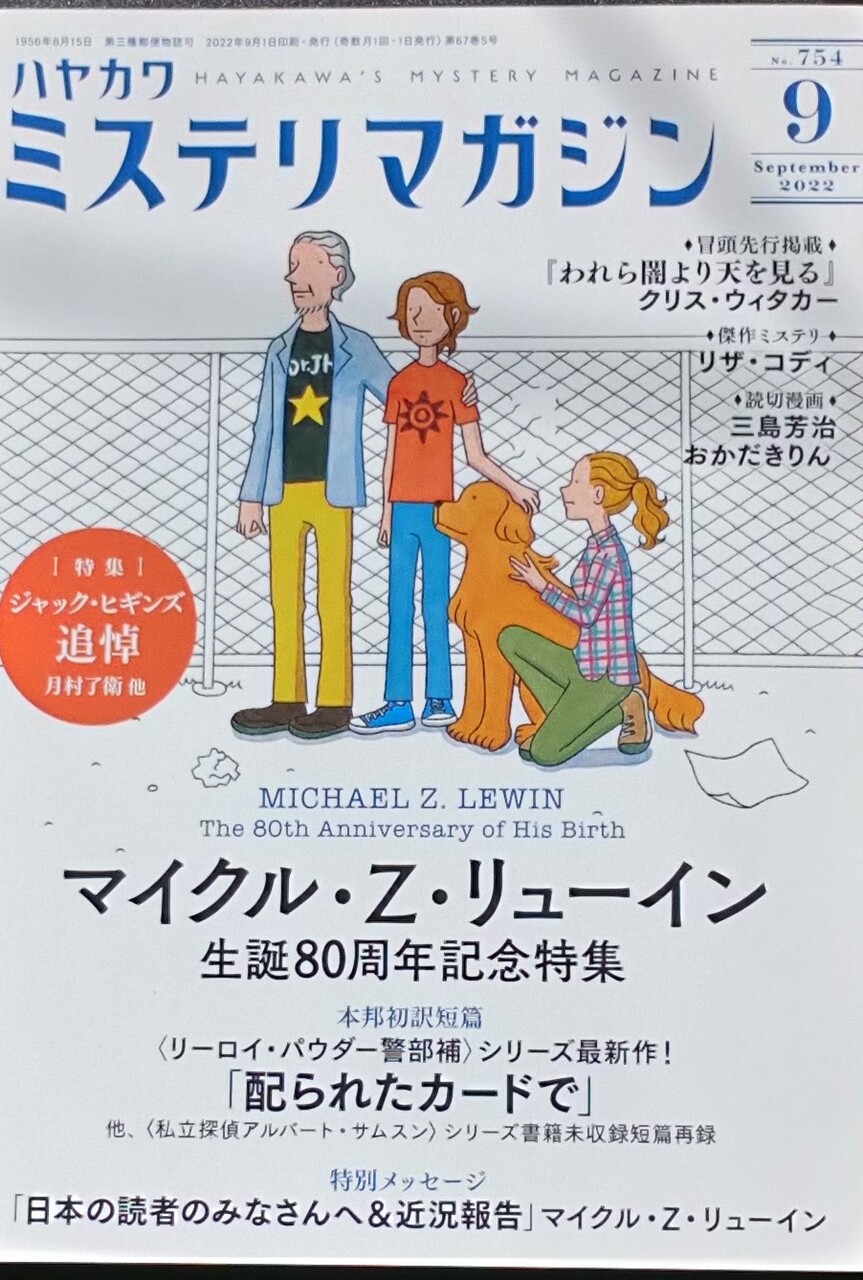 I'm pleased to share the news that the September 2022 edition of Hayakawa's Mystery Magazine (in Japan) featured me and my work, marking, as it says on the cover, "The 80th Anniversary of His Birth."
As well as a newly translated story, there are critical comments and a message from me for my Japanese readers. The company, headed by the amazing Hiroshi Hayakawa, has supported my work since the early '70s. It is now also publishing my latest novel, Whatever It Takes.
If all that's not enough, the magazine also includes a wonderful story by my partner, Liza Cody: "When I'm Feeling Lucky" is otherwise only available in English in her story collection, "My People." Who but Liza would write haikus for a story to be published in Japan?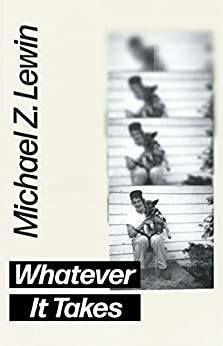 A grandfather and father tries whatever he can think of to protect his daughter and her son as they hide from the ravages of a universal disease and the people who seek to take advantage of it.
On a different note, you might be interested to know that the picture used on the cover is of me, a teenager, and my dog, Pansy Valiant - who also appears significantly in the book.
The cover design is by Sam Camden-Smith.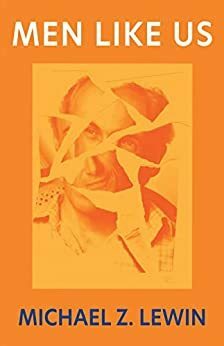 Leopold has arrived in a new home, while trying to escape the emotional damage he's inflicted on the woman he loves and on himself. Yes, there are murders and mysteries in the story as it unfolds, but more than anything else this is a novel about a man's attempt to find redemption.
This cover uses another photograph of me, taken by Kate Butler, ripped artfully by her mother, my partner Liza Cody, and then used in the cover design by son and grandson, Sam Camden-Smith. It took three generations...
I spent several years writing this novel. I hope that if you read it you think it was worth the time.
The latest Albert Samson book: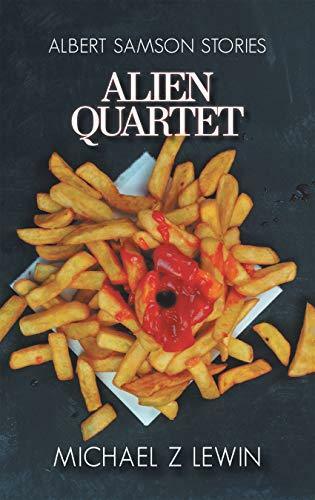 ALIEN QUARTET puts together four linked Samson stories. (Available in paperback and electronically.)

The link - besides being set, as ever, in Indianapolis, and during a single year - is that the client in the first story returns in each of the others. Here's a teaser, that first client is LeBron James, who wants Samson to investigate a break-in at his run-down Indy home...

The stories have previously been published in Ellery Queen's Mystery Magazine, but never together. I like them a lot and, happily, some other people have as well. As well, Ellery Queen's editor was among those suggesting I publish them together. Well, now (at last) I have. Soft cover and all electronic formats. Over to you.
"Who I Am" won the 2012 Shamus Award for the best story of 2011. I'm thrilled that the Private Eye Writers of America recognized the story this way. Another of these stories, "Extra Fries", inspired the cover. It was nominated for the 2014 short story Shamus for the best PI story of 2013.
If you like the look of these fries, they're available (without the bullet hole) at the Guildhall Café in central Bath.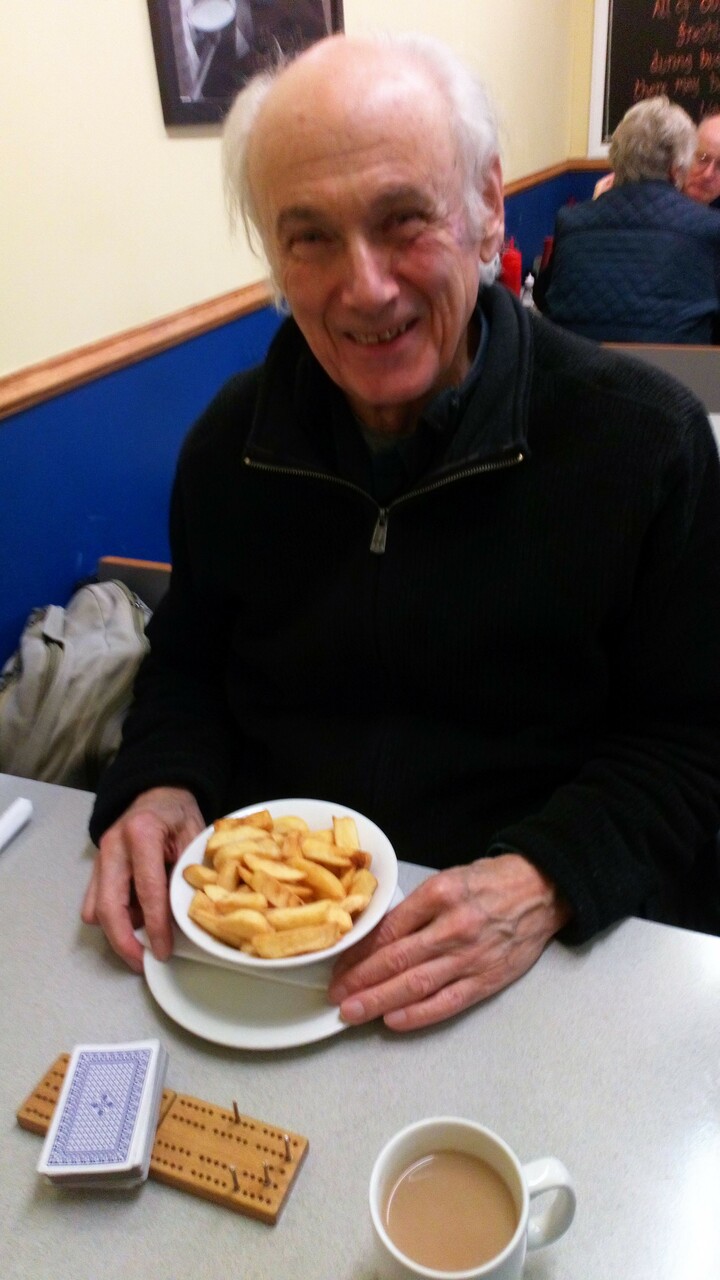 And something rather different, CONFESSIONS OF A DISCONTENTED DEITY, a Heaven-sent satire, is now available in paperback. It continues to be available on all electronic platforms. If you have trouble finding it, try the book search on Smashwords.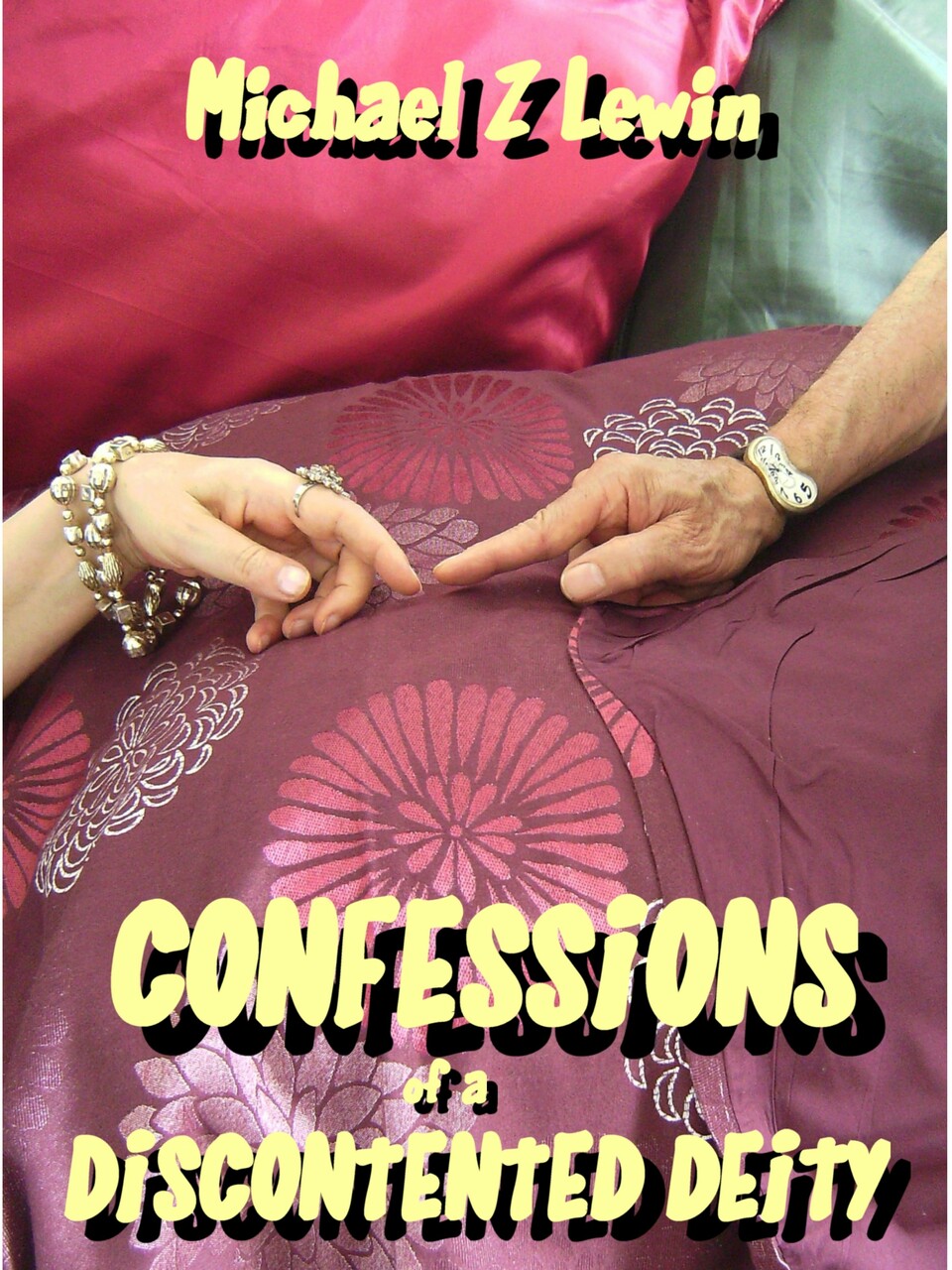 Ever wondered what God is like? Well think about it: He made man in His own image, right? So if you look at men and work backwards you'll get the idea. Which explains a lot.
CONFESSIONS is narrated by God and describes a period of His life when He finds Himself changing. Like the way men change. That not only surprises Him, it confuses Him and He gets slapped a lot.
But God is nothing if not a problem-solver. In this book He describes how He went about trying to understand Himself and work out what He should do about modern man. And modern woman.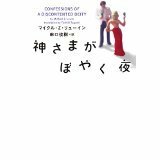 This is what the legendary mystery writer, Peter Lovesey, says about CONFESSIONS of a DISCONTENTED DEITY:
"Confessions is a joy and I'm sure it will entertain and amuse everyone lucky enough to read it, bishops, priests and born-again Christians included. Rabbis, too. There's such good sense and wisdom at the heart of this wonderful romp through heaven and earth. The idea is inspired and the energy and ingenuity of each chapter explore the nature of, well, almost everything that matters. The brilliance is that while we are treated to such fun with a God learning to be streetwise, the story is rooted in good theology. I hope He will return."
For exerpts from more reviews of various of my books, click any book title in the column on the right.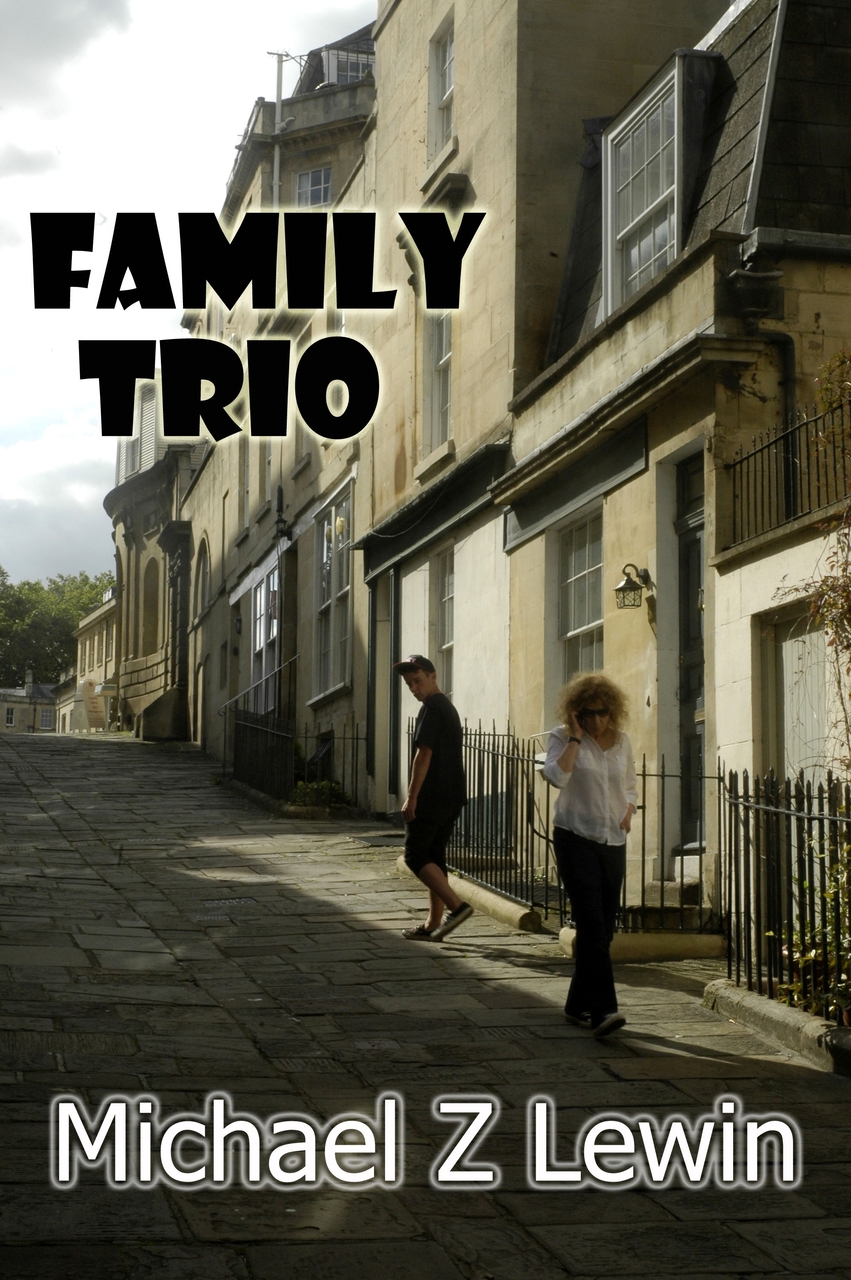 Here's my first story offering as an electronic publication, at just under $1 - available from Amazon, Smashwords and all the major electronic platforms.
I really like the cover. It was done for me by Sam Camden-Smith. And the woman about to be mugged is his gran, Liza Cody.
FAMILY TRIO contains three stories about the family of private detectives who have featured in the novels FAMILY BUSINESS and FAMILY PLANNING. (The third novel in the series, FAMILY WAY, is out in the US this December.)


In "The Jane Case" the Old Man starts working out at the gym but when he watches a young man who runs oddly on a treadmill he finds a client. David's initiative helps solve the case and Marie sets up in a new enterprise.
In "And Maybe More" Salvatore has dinner with a woman who advertized on a dating site - strictly business, of course. Meanwhile Gina and Mama unravel the source of Marie's sudden wealth.
In "Gun Point" Angelo is held up on his way home from a drawing class and Rosetta meets a policeman who's only just moved to Bath.
These stories have been published before in mystery magazines but I've rewritten them all significantly for this, my first venture into electronic publishing. It's available for all major electronic platforms and for direct download to computers. Give it a try and let me know what you think?

2009 marked the 40th anniversary of many things - first men on the moon, the Miracle Mets, PBS, Woodstock, Monty Python, Nancy Banks-Smith's first wicked TV reviews, the forerunner of the internet, Sesame Street. And Albert Samson.

Albert Samson? you say. Although the first Samson novel was published in 1971, I began writing it in November of '69. Recently I discovered the manuscript of those first few pages. This is what page one looked like: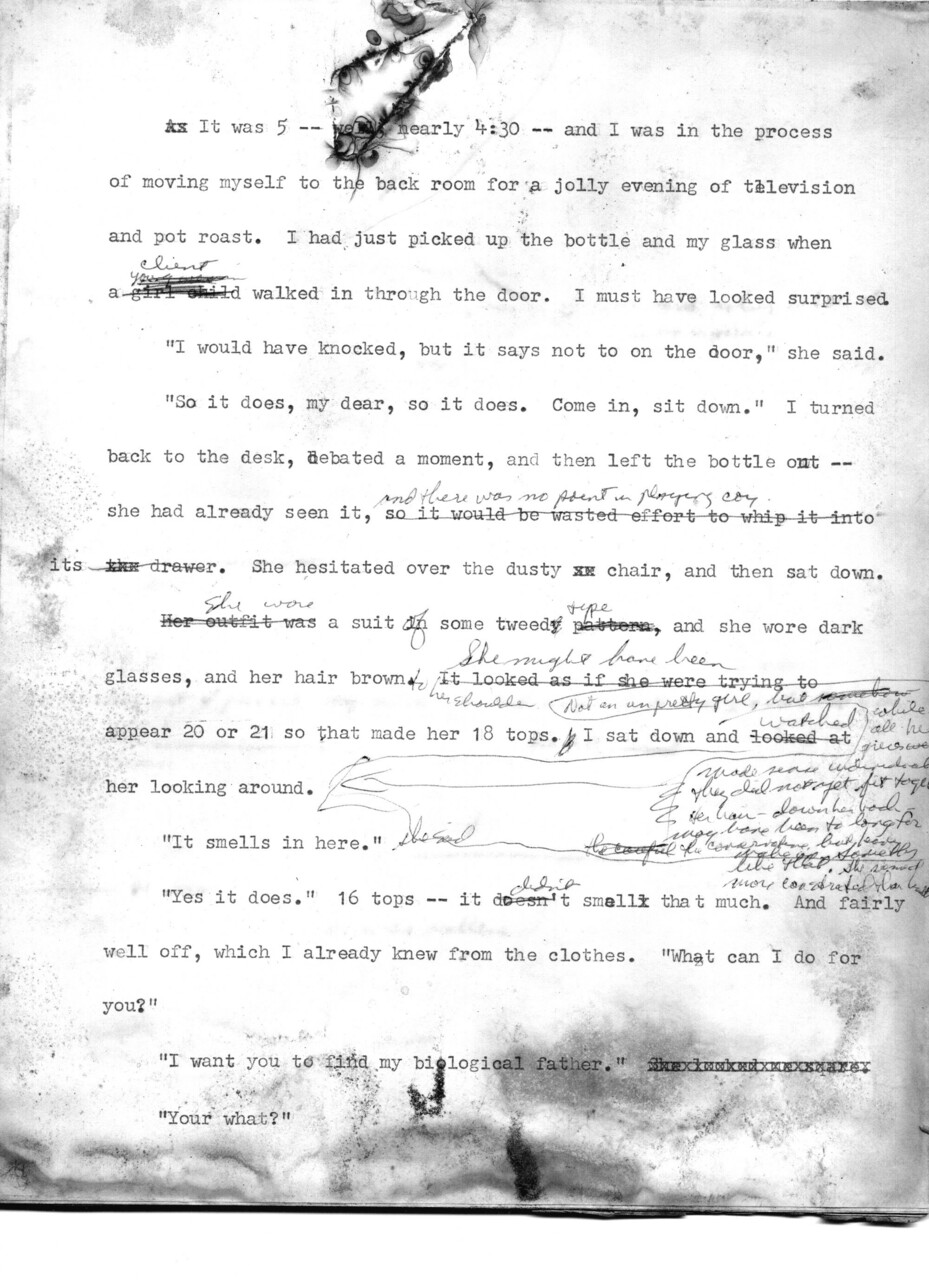 A special greeting to my Japanese readers: