Newsletters
Happily, as of my newsletter of November 2011, the system I use enables me to include pictures. Till now it's just been words and - I hope - not tooo many of those.
I've been asked, too, why I don't send newsletters more often. Am I wrong to think you'd only want messages from me that actually contain some news - especially about publications and appearances and things that don't come along every day? I could chatter to you, but if my inbox is anything to go by, I'd think you could do without that.
However if you do sign up to get my newsletters, you'll get an automatic email asking you to confirm that you really want them. If you don't confirm, you won't go on the list.
The latest newsletter is not the one below: that is at the top of the list on the left and available to read by clicking. But I like the cover picture on this latest Albert Samson book.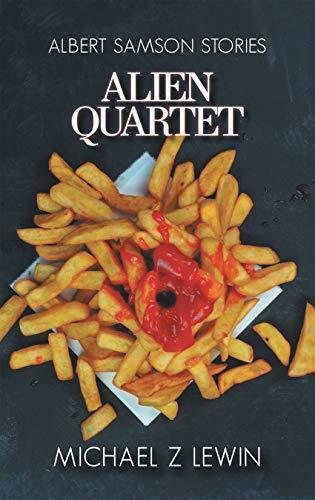 A new book! Just out is ALIEN QUARTET, a collection of four linked Albert Samson short stories – nice cover, eh? Well, I think so.

The stories have all been published before, in Ellery Queens Mystery Magazine, but they've never been together in a book.

They're linked because Samson's client in the first story returns in each of the others. Sometimes he's the client again, and sometimes he turns up with someone else who needs PI help. I'm not a student of detective stories but it's unusual for clients – as opposed to investigators – to be series characters.

Anyway, I really like these stories and I hope you will too. They do already have some fans. Two have been nominated for prizes, and one won it: the Shamus, for the best PI story of the year.

Following the stories is a short Afterword – a bit about writing the stories and about coming up with Albert Samson in the first place. Some of this material has never appeared elsewhere, if you're interested in that sort of thing – not even on the website (MichaelZLewin.com).

The book is available in soft cover (ISBN 9781532061097) as well as on all electronic formats. And if you're a bookseller, soft cover copies may be purchased on sale or return through the end of 2019.

If you're receiving this, chances are high that you already know – or knew – who Albert Samson is: a private detective who lives and works in Indianapolis, Indiana. The first of the eight Samson novels was published in 1971; the most recent in 2004. Happily Samson has not aged as rapidly as I have…

And otherwise? Well, another Ellery Queen story will be published next year in a book celebrating the 25th year of the Crippen & Landru publishing imprint, which has been pre-eminent in the English speaking world for keeping author collections of mystery short stories going. My contribution, "Death Row" in the collection (tentatively called SILVER BULLETS: Stories in Celebration of Crippen & Landru's 25th anniversary) is set in a pub in Bath, England (down the road from where I live these days.) Death Row, in a pub…? All is revealed, and that part of the story is real.

Recently – well, two years ago – in another anthology, a new Lunghi family story was included in a book celebrating the 80th birthday of legendary mystery writer, Peter Lovesey. That's called MOTIVES FOR MURDER, and my story is "The Right Thing." All the contributors are members of The Detection Club, a group that has an interesting history too, if you're inclined to look it up. The story has only ever been published in this book.

Otherwise…? Keep on truckin'.

Mike